Inspiring Connection In A Hybrid Workplace
February 8th, 2022
by Josh Janowiak
Inspiring connection in a hybrid workplace is going to be key for fostering a culture of connection. Many of us have gotten used to learning, living, and leading from home. While this has created flexibility and autonomy among teams, this can also create a sense of disconnection and isolation. Demonstrating empathy for the changes we are all going through and understanding ways to restore energy and team member interaction are critical. Today we'll chat with our guest Mark Ostach as he provides us with ways to reignite human connection in a hybrid workplace leaving you filled with newfound courage to connect.
Mark Ostach
CEO, Leadership Coach & Facilitator
Mark Ostach is on a mission to help professionals, teams, and leaders connect with themselves, each other, and their collective purpose. Ostach's goal is to restore energy and focus to organizations and individuals battling modern life's non-stop pace and growing sense of disconnection. A wellspring of energy and born empath, Ostach holds degrees in business, psychology and technology with an interest in behavioral neuroscience.
A recipient of Crain's Detroit Business 20 in Their 20s and Oakland County's 40 Under 40 awards, he is determined to remind the world that human connection is the most powerful connection we have. A nationally recognized speaker on Digital Wellness and a frequent contributor to USA Today, Ostach has done two TED talks and spoken to thousands of people all over the country, encouraging them to embrace a culture of digital wellbeing.
Connect with Mark on LinkedIn
Courage To Connect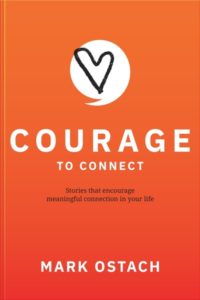 Courage to Connect is a book full of personal stories that are intended for people who want to improve their relationships and create more meaningful connections. At the end of each story, you'll find a call to courage, prompting a moment of reflection and sometimes action.
• Discover areas of your life that require restoration.
• Develop vulnerability, empathy, and courage to build better connections.
• Improve your digital well-being in ways that positively impact your mental and emotional health.
By the end of this book, you'll be well on your way to building more meaningful connections both online and offline, leaving you filled with a newfound courage to connect.
Get your free copy just for hearing about it on the Marketers In Motion Podcast. Thanks Mark!
Links & Resources
Take Our Survey
How often do you listen to our podcast? Do you feel the content is valuable to you as a marketer? How can we improve the quality of our content? Would you prefer a shorter podcast, around 30 minutes instead of 60?
Take the survey and let us know your thoughts. If you're interested in a free event ticket or some free swag, leave your contact info. Thanks for your input!