Bloody Hell! The Convergence of Content, Email & My British Mum
November 22nd, 2019
by Josh Janowiak
E-mail isn't the sexiest marketing topic, nor is it the most fun, but if done well it can lead to the best ROI of any tactic in your marketing plan. Regardless of industry and even though there is more noise in the inbox and more apps for consumers to juggle, e-mail continues to prove itself as the best one-to-one communication channel for brands and most preferred by consumers.
But, marketers continue to struggle with their email efforts. Even some 26 years after the first email campaign was sent, marketers are still challenged by how to ethically grow subscribers, ensure deliverability, and create content that is timely, targeted, and relevant.
Today we're joined by Michael Barber (and his British Mum) to explore some of the best and most practical ways to improve your e-mail marketing, challenge your email conceptions, and discuss just why this tactic continues to be vitally important for marketers. 
We'll also discuss how to ethically grow your email subscriber lists and how to select the appropriate Email Service Provider for the job.
Key Topics
Design Best Practices
Creating Relative & Personalized Content
Building Trust with Subscribers
Email List Building Strategies
Selecting The Right ESP For The Job
Many of the topics discussed in this podcast are also covered in greater detail in Episode 6 Email Marketing Isn't Dead, published in April 2019. We also cover more on SPF, Authentication, and Demark Policies in that podcast.
Michael Barber of Godfrey
At least for the next few weeks, Michael Barber is the Senior Vice President, Chief Creative Officer at Godfrey. He began his career at Mighty Interactive, the digital shop founded by Jay Baer. Mighty was one of the first agencies to leverage the future email behemoth ExactTarget, ultimately helping the organization develop its ad agency offering before it was acquired by Salesforce for $2.5 billion. Michael went on to lead strategy and planning at Sitewire, Nomadic Agency, and COHN, before founding his own consultancy, Barber & Hewitt. In 2018, Barber & Hewitt joined Godfrey, one of the largest US-based B2B agencies, and was named one of Marketo's 50 Fearless Marketers, which recognizes the top marketers around the globe driving bold, fearless, marketing and digital transformation.
His work has been featured in The New York Times, The Wall Street Journal, and Forbes. This work has been awarded numerous industry awards, but more importantly has driven successes including the most effective and cost-efficient campaign in the history of a Fortune 500 company, a 160x return on ad spend, and 10 million earned media impressions within the first month of a new product launch.
Outside of Godfrey, Michael hones his unhealthy obsessions with donuts, cold brew, planes, BMWs, the Arizona Wildcats, and his two Westies, McDoogle and Bowie.
Michael Barber
SVP, Chief Creative Officer
Godfrey
@michaeljbarber anywhere online
Thanks to Our Sponsors!
Without their support our programs would not be possible.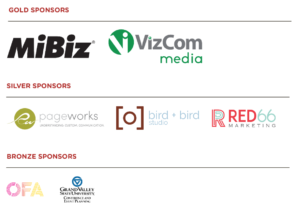 The Convergence of Content, Email & Mum
What Not To Do
We don't want to talk to you: donotreply@yoururl.com
Pinch, zoom, and have fun navigating all these columns and content!
Present a bunch of text and junk above the fold
Use the entire fold for your logo/branding
Hide or eliminate unsubscribe options altogether
Unsubscribe option: Never email me again
Lying: I missed your reply
Be Creepy: We saw you looking….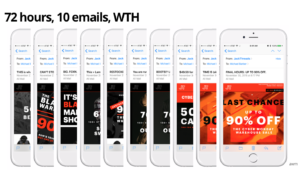 How can we get better?
Enter……Michael Barber's British Mum!
Georgina Jane Barber share's some quintessential British motherly advice with principles we should all consider in our marketing efforts.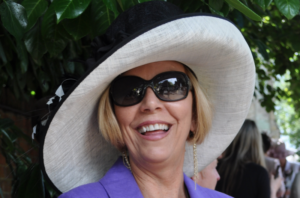 Be Bloody Brilliant
Build better the best emails
From names matter a lot!

Dan from Drift increased opens 70%

Size doesn't matter

Phrasee out of the UK tests subject lines
Accounts for only .01% of opens

Sentiment: Words matter.
Diversity: Different strokes for different folks.
Sophistication: It's email! The simpler, the better.
Emojis: make good subject lines better and bad subject lines worse.
Single column "skinny" layouts

Design to scroll
Use the inverted pyramid to guide eyes or the zig zag
Slim up your headers! 

Engaged subscribers don't care about your logo

Fonts & Buttons

Headlines 30px
Body copy 16px
44 x 44 points minimum with breathing room

Put a call to action above the fold
Use Power Features

It's Always the Little Things, My Love.
Personalization and interactivity matter.
Contextual Buttons
Post Purchase Personalization
Location, location, location.
Celebrations & Milestones
Inbox Is The Cart
Reviews natively
Data that provides utility
Personalization of all forms
Be Kind
Empathy is required, even in the inbox.
Always say hello.
Grow your list organically, always.
Speak like a human

Respect Time

StickerMule.com has wonderful email campaigns that speak to their market while respecting their time.

Ask & you shall receive
Frequency preferences FTW.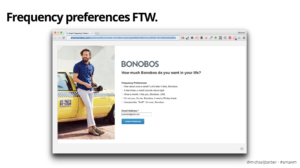 Consistency Above All, Darling
Measure all ways and always.
Hypothesis, always.
Test automated/operational emails. 74% of companies don't.
Focus on tests that move your needle.
Test similar and different audience segments.
Test your active subscriber segment.
Share results everywhere.
Michael's Favorite Email Campaigns
Pinterest & others are creating emails that are like microsites with dynamic content, video, etc.
Additional Email Marketing Resources
Growing Your Email List
How to Grow Your Email List: 80+ Proven and Simple Ways
Create Amazing Content
Offer Exclusivity

Give more and better incentives

Engage with Empathy
Keeping Your List Clean

Post email list cleaning resources. Make sure addresses are valid.
Add millionth email resource link
Selecting An ESP
How to select the right email service provided for the job. 
Start by researching ESP deliverability rates.
Find the right sized ESP at the right price that works for your budget.

Don't kill the bumblebee with the bazooka!
What are the top B2C & B2B ESP providers?

Small Business

Mailchimp
Campaign Monitor
Act On
Emma
Keep (formerly Infusionsoft)

Mid Market

Mailchimp
Emma / Campaign Monitor
Pardot
Auto Pilot

Enterprise

Marketo
Hubspot
SalesForce
Adobe
Response
Oracle

Is it future focused?
Does it fit into the process of your brand?

Emma, Pardot, Marketo, Auto Pilot
Email Audit Guide-Barber & Hewitt
Michael's Favorite Books
Think Do Say
Think. Do. Say. is not just the first business book in history to not mention Apple (finally). It's your guide to making good things happen for you and your organization, filled with down-to-earth insight and indispensable humor. Ron Tite didn't just think about writing the most refreshing business book. He did it. You'll be the one to talk about it.
Think Do Say-Ron Tite
Obviously Awesome
You know your product is awesome—but does anybody else? Forget everything you thought you knew about positioning. Successfully connecting your product with consumers isn't a matter of following trends, comparing yourself to the competition or trying to attract the widest customer base.
Obviously Awesome-April Dunford
The Business of Expertise
This passionate "expertise manifesto" is intended to elevate the impact of advisors who sell insight as entrepreneurs. Three foundational chapters form the basis of the entire book: experts develop insight by isolating patterns in data; they convert those insights to wealth by crafting a unique positioning for which few available substitutes exist; and their confidence grows as the marketplace embraces their application of expertise.
The next sixteen chapters—building on that foundation—each answer a single question, starting with the role of expertise in a developed society, how important it is for experts to love the hard work required to hone their expertise, and how to see all that in the context of their own purpose in the world.
The Business of Expertise-David C. Baker
Principles
Ray Dalio, one of the world's most successful investors and entrepreneurs, shares the unconventional principles that helped him create unique results in life and business—and which any person or organization can adopt to better achieve their goals. Dalio's original Principles has been downloaded over three million times, and this expanded and revised edition is the first version available in print.
Principles-Ray Dalio